Support Release for Talib
On August 7, 2013, Talib M. Shakir was denied Parole for the second time in his 20 years of serving a sentence of 20 to life in federal prison.  Incarcerated at the age of 17 for second degree homicide, Talib has used his time in prison to rehabilitate and rebuild himself into a better person, navigating the numerous challenges of growing up in the system to become a leader and model for positive change.  A mentor, life coach, teacher, and writer, Talib brought to the parole board an extensive network of positive support,  high marks of achievement, and a rich background of program and educational accomplishment within his 20 years of incarceration.  His life exemplifies the changes that one can achieve for the better while serving time.  The parole board recognized this, and recommended him for release on parole as of March, 2014.  However, the parole commission ultimately denied this recommendation and instead gave him 5 more years to serve behind bars before he may again seek a chance at parole.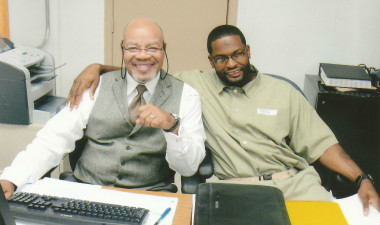 Dear Friends & Family,
I'm reaching out to ask for your support for our online fundraiser: "
Talib M. Shakir Legal Defense Fund
."  As many of you know, Talib was unjustly denied parole in 2013, despite being more than qualified and having a recommendation for release (read more about his
2013 parole hearing
.  Your donations will help us hire our highly esteemed lawyer, Attorney Linda Sheffield, to fight for Talib's release.
We are now fighting for a reconsideration of this parole decision and ask for your support.  Having served 20 years making every effort to redeem himself while incarcerated, we understand that Talib is no longer the 17 year old youth who made the misguided decision to commit crime.   We claim faith in our criminal justice system that individuals can be rehabilitated to productive members of society, and recognize Talib's life to be an example of this.  We are now asking that the Parole Commissioner also recognize this, and grant Talib his second chance. 
Please show your support by signing the petition to the Parole Commissioner, asking him to reconsider his recent decision to deny parole to Talib M. Shakir.  
Dear all,
I am looking for your support on a very important issue that is effecting many in a very negative and non productive way. In this request of support I would like to lay out a few very important issues. Issues that will make clear the need for this support. In supporting me, and my endeavors, allows the voice of the public to be heard in matters where they are seldom heard, in the places where it is determined who returns back to your community.
Before I go into details I want to present to you parts of a testimony presented to the House of Representatives by a Dr. James Austin concerning what he concluded in a study that dealt with the treatment of DC prisoners, who fall under the same guidelines that I do. It is noteworthy to inform you that he was hired by the United States Parole Commissioners to conduct this study.
"My testimony today is based on a study I recently completed for the US Parole Commission. The Commission wanted to know if the criteria it is using to parole prisoners sentenced prior to 2000 under the old DC sentencing code to to revoke parole for all released prisoners was valid. Formally referred to as the parole guidelines, these criteria are significant as they can serve to significantly lengthen a prisoner's period of imprisonment by many years.
The study also looks at the extent to which DC prisoners who are housed in the BOP system are receiving programs and what impact those programs were having on recidivism rates. The detailed results of the study and full report have been forwarded to the Committee.
(From his findings that refer to me and my case are which he calls major findings):
1. Consistent with other studies the amount of time imprisoned (length of stay) is not associated with rates of recidivism.
2. Most of the factors being used by the Commission to assess risk are not good predictors of recidivism.
3. An alternative risk instrument that relies on the conduct of the prisoners and program he or she has completed while in the BOP does a better job of assessing the prisoners risk level.
4. The Commission is also using factors (crime severity and prior record) that are not related to recidivism that are being used to significantly extend the period of imprisonment.
5. DC prisoners released in 2002 who had been sentenced under the DC Code prior to August 2002 as compared to other states prisoners had much longer sentences and served longer prison terms.
He also stated:
Based on this findings the following recommendations have been made to the Commission and the BOP.
1. Change the guidelines and implement a new risk instrument that takes in to account the prisoners conduct awhile incarcerated ( dynamic factors)
2. Alter the current practice of extending parole eligibility dates based solely on offense severity and history of violence; especially given that long periods of incarcerations for DC prisoners and the lack of a relationship between length of time served and recidivism.
3. There should be a concerted effort to reduce the length of imprisonment and parole supervision based on good conduct and completion of programs while incarcerated within the BOP. Such efforts would include allowing release at an earlier stage of the sentence, awarding of goodtime credits for prisoners who have completed rehabilitative programs and allowing for the period of the parole supervision to be reduced based on good conduct.
He concluded this testimony by saying:
I have briefed the Commissions, the BOP and the US Department of Justice on this study and its policy implications. Based on that meeting the Commission has agreed to initiate a project that will result in a revised risk instrument and new guidelines for:
1. The release of DC prisoners sentences under the "old" indeterminate sentence guidelines…
It is expected that these new guidelines will increase the rate of parole for "old" sentenced prisoners…I expect these new guidelines to be completed by this summer."
Why do I mention the testimony of Dr. Austin? To show that despite his testimony in front of an elected body of government officials and the conclusion of his study that there has been no change in the way that the United States Parole Commission (USPC) is dealing with the DC "old" prisoners, such as myself. The USPC has not done what they agreed to do as stated by Dr. Austin.
I am going to show that they are not maintaining the integrity of Dr. Austin findings by showing how they have dealt with me and my case. In order for me to present this in the clearest manner possible I want to discuss parts of my current offense.
At the age of 17 I committed and offense where someone lost their life. I have always expressed regret and remorse for this act. I have made no excuses for my actions and behavior at any time. Although I was young when the offense occurred I now realize what I didn't at that time and that is no matter what happens in life, what is going in on life, or where one were comes from we always have the option to make choices. I made some poor choices in life and as a result of the choices I am incarcerated.
Ultimately, I was tried and convicted of second degree murder and sentenced to 20 years to life in prison. As of now I have served 20 years of this sentence. So what I am asking support for has nothing to do with an early release or pardon. I am asking that the guidelines that are in place that will return me back to society are upheld and applied.
In 2010 I had my first parole hearing and was given a 3 year set off. At that time I had spent 17 years in prison. In June 2013 I had another hearing and was given a 5 year set off, and as of now my next date is set for 2018. At the second hearing I was given a recommendation date for parole in March 2014, but the Commissioners overruled the decision of the hearing examiner and gave me a 5 year set off. You may be thinking that something happened in between these two dates. I will tell you what happened before the first date and in between that first and second date.
Since the time that I have been in prison I have been active in my rehabilitation. I have participated in various programs (see attached) and reached a level to where I now teach these classes. In the beginning I was searching for the right thing as it is hard to adjust to prison at such a young age. I had to learn quickly and mature even quicker. The day to day life in prison is not easy at that age, or any age for that matter. I started this sentence in the infamous Lorton Reformatory, yet despite all of the challenges of being in that environment I maintained a steady course of productive and positive behavior.
They began shutting Lorton down in 1996 and DC prisoners were sent all over the country. I ended up in a super max prison where we were locked down 23 hours a day. It was here that I came up with a life plan that would be: (1) Productive (2) Law abiding and (3) Pro-Social.
In 1999 I was sent to Florence Arizona where I began working with juveniles through a program called Concerned Offenders for Youth Awareness (COYA). This was a program were prisoners partnered up with The Arizona Superior Court, Juvenile Division to help intervene in the lives of those juveniles. My story was very impactful in that I was close to a lot of their ages and was a perfect example of where one can end up, regardless of age, if they choose to continue down that path.
I left Arizona in 2001 and from that time, up until my first hearing in 2010, I either participated in a program/vocational trade or facilitated a program to other inmates. I am including a list of the programs that I have participated in or facilitated prior to my first hearing in 2010.
Since my second hearing I have facilitated victim impact classes and have been vocal about change and pro-social behavior.
Recently, I co-faciliated the victim impact course with a Professor at the University of Pittsburgh-Bradford, Dr. Tony Gaskew tenured professor of Criminal Justice. I also facilitate a cognitive base program that deals with the criminal mind and behavior called "New Beginnings" I developed a coaching program that is used with younger less experienced prisoners to help the make the best of their incarceration. To help guide them to a place where they can make productive decisions, that do not lead to prison or criminal lifestyle and behavior.
I also initiated a partnership with a Dr. Patrick Williams, who as a result of this partnership serves as my mentor, and the Institute for Life Coach Training to start a Life Coaching program here. A program that has been very successful in helping change some of the culture here at this prison. I went outside the institution to become a certified Substance and Alcohol Abuse Technician and I graduated with high honors. I also became certified in personal training. These are certifications that I paid for, that are not offered by the institution.
When I went to my second hearing, in June 2013, I had with me as a staff representative an Associate Warden. This person is the second highest staff member in the prison, second to the Warden. The AW came to this hearing and attested to the work that I have done and the behavior that I have modeled.
I also had employment, a stable place to live, strong community ties and support, a comprehensive and realistic life plan, budget, saving and spending plan. I had the means to obtain proper ID, the information needed to go back to school and major in Social Work. And, most importantly I had served the minimum of the sentence, 20 years, so it is not that I was asking for early release.
We live in a time where there is a budget crisis and the BOP is being squeezed to maintain housing for prisoners, a time where laws are being reviewed for change, due to the budget crisis and have been deem unjust and unfair, a time where the US Attorney General, Eric J. Holder has publically announced the need to solve the problem of mass incarceration, in a time that Michelle Alexander has equated to the era of Jim Crow via Mass Incarceration.
My question not only to you all but to the Commissioner is why can I not be granted parole? How is it that I am, in light of where I am at today, continually deemed unfit for society. When (1) I have served the minimum term of my sentence, and have done what is required in terms of rehabilitation, (2) I have done all that has been deem statically proven to reduce recidivism and (3) I am more equipped, prepared and supported than most offenders that make parole. Offenders that have yet to demonstrate remorse, shame or a change in criminal behavior and lifestyle.
Is it not a disrespect for the system that is in place, as well as to the people in place to determine when an inmate may be suitable for parole. To have one of the highest official on the prisons come and speak on my behalf and say that I am ready for society. Yet this is not taken into consideration, a person that interacts with me daily. Would this person not know best?
The people who made the decision to give me 5 more years are not making those decisions based on what I am doing now. Rather they are looking at an event that happened when I was a teenage; a teenager that lacked proper guidance and did no understand half of what I understand now. They are not looking at where I am today nor who I am today, which is more important in determining what I do upon my release.
I don't have the right to appeal this decision but I have the right to ask that my case is reopen and reviewed. To be judged by what I am doing now and not what I did in the past.
I am asking you to sign my petition below:
http://www.change.org/petitions/u-s-parole-commission-reconsider-the-recent-parole-decision-for-talib-m-shakir
and to ask him to review my case and reopen it and to really take into consideration what I have done in the last 20 years and what I am doing now. Ask them to give me the opportunity to return to society and really make amends for the wrongs that I have committed.
I leave you on this note. The average cost to imprison a federal inmate is $40,000 a year, depending on the age of the prisoner. If I have to do another 5 years that is a cost of $200,000. For what? There is nothing else that I can do in terms of rehabilitation. The only thing that I have not done in 20 years is watch TV and engage in prison sports, other than softball. So this means that tax payers are going to spend $200,000 for me to sit here and watch TV. Really! Is this where and how you want your tax dollars to be spent? Especially considering I am at a point in life to contribute to the society and not take from it.
I ask you to think deeply about this and to help me in my quest for freedom.
Humbly written,
Talib Shakir